Commune
What We Learned From Inspiring Speeches By Teen Advocates
6 min read
Do you dread going to classes every morning? Wish you could play ML because you're overwhelmed with deadlines? When you're drowning in piles of homework, it's hard to remember just how lucky you are to receive an education. There are personal concerns that affect students individually (like the lack of motivation to study). Then there are issues happening to many students around the globe, such as sexism, racism, underfunding, and climate change. Luckily, there are amazing people—teens like you—who are out there striving to make a difference.
Here are some wise words of wisdom from famous youth activists to empower you to stand up for yourself and others (because you're never too young to be an advocate!):
1. Don't be afraid to speak up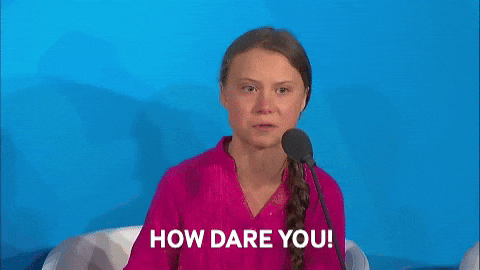 My message is that we'll be watching you. This is all wrong. I shouldn't be up here. I should be back in school on the other side of the ocean. Yet you all come to us young people for hope. How dare you. You have stolen my dreams and my childhood with your empty words. Yet I am one of the lucky ones. People are suffering. – Greta Thunberg, 2019 United Nations Climate Action Summit in New York City Speech
Greta didn't let herself be intimidated by a room full of adults (like US President Donald Trump) while she delivered this passionate speech. So don't be afraid to express your thoughts, ideas, and concerns, especially when you strongly believe in a serious cause. The world needs your voice, and you can help fellow students like yourself more than you think.
2. Your words can change the world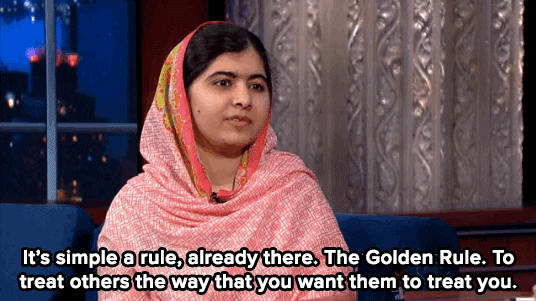 Dear brothers and sisters, we must not forget that millions of people are suffering from poverty, injustice and ignorance. We must not forget that millions of children are out of schools. We must not forget that our sisters and brothers are waiting for a bright peaceful future. So let us wage a global struggle against illiteracy, poverty and terrorism and let us pick up our books and pens. They are our most powerful weapons. – Malala Yousafzai, 2013 UN Youth Takeover Speech
You know what they say, "the pen is mightier than the sword." Never underestimate the power of words, because young leaders like Malala Yousafzai have used them to empower girls in Pakistan. Whether you start a blog, deliver a speech, or give advice about a worthy cause (like making education accessible), you have the power to make a difference when you speak up.
3. Life is tough, but so are you
"Everybody in this room is in a unique position because you are here, you have proven to hold power," Gonzalez said. "To each of you powerful women I say this, you know that you are forces to be reckoned with, you can and have inspired peace and understanding and most importantly right now you can inspire your audience to vote. Now more than ever women need to continue to rise up." – Emma Gonzalez, 2019 Variety's Power of Women Speech
Did you know that Emma Gonzalez survived the February 2018 Stoneman Douglas High School shooting in Parkland, Florida? Incredibly, she's fighting for gun control against the National Rifle Association (NRA). Bad things, like natural disasters and hate crimes, happen whether we like it or not. And it's okay to not be okay because your emotions are valid—hey, Emma proudly proclaims that she cries during her speeches.
There's nothing to be ashamed of when it comes to expressing negative emotions. While there's no way to control the chaos that happens around us, we can still stand up and support each other to fight injustice.
4. Everyone deserves to go to school
Period poverty is robbing girls of a childhood. And those who miss school face getting further and further behind in their educational progress and as a consequence suffer real social isolation…I also dream of a day where not a single girl on earth will miss out on education or a childhood just because she was born with a uterus. – Amika George, 2017 TEDxCoventGardenWomen
Amika George is fighting for UK girls who have no choice but to use old socks, toilet paper, and newspapers whenever they have their monthly period, mostly due to low income. This is called period poverty.
Girls in Rwanda miss up to 50 days of school because of the stigma. Girls everywhere, not just in the UK, should not be missing school because of their periods. All kids deserve an equal chance at education, regardless of birth and status. You can help be making periods less of a stigma in school (that means not making period jokes) and supporting initiatives to #endperiodpoverty. Here's how one school is doing it: through creating period-positive art and donating sustainable hygiene kits!
5. No one deserves to be bullied
Since I know there are many young people watching this, and even to the adults, too — they could probably use the reminder — I was taught, if you don't have anything nice to say, just don't say it. There should be no space in this world for bullying, and I'm not going to tolerate it and neither should any of you. If you need a reminder of how well you are and to rise above the hate, message me on Instagram. – Millie Bobby Brown, 2018 MTV Movie & TV Awards
The Stranger Things star was Unicef's youngest Goodwill Ambassador last year due to her anti-bullying campaigns. Bullying can happen to anyone and it deeply impacts a student's mental health. Getting good grades in school is hard enough as it is without someone else putting you down all the time. Even Millie Bobby Brown was not exempt from it. Bullying isn't just physical; it includes spreading rumors, making verbal threats, or excluding others on purpose.
Practice kindness and stand up for people who are bullied. When you see someone getting bullied, ask for help. Involve your classmates, or call your teacher. Becoming a selfless person goes beyond what you've learned in the classroom.
Which of the speeches resonated with you? We hope you're inspired to help make this world a better place. No matter what you want to fight for, know that you're not alone and that there are youth advocates rallying with you. Hey, you are never too young to make a difference!
Want more tips and advice on how you can contribute to a community? Read more articles like this on the Commune blog section at Edukasyon.ph now!
Enjoying the blog? Register on Edukasyon today!
Take care of your mental health
College Life
The Thought Process of Filipino Students Debating Whether to Pursue Their Studies Abroad
Stephani* L*** likes this
Edukasyon's Guide To
10 Most Searched College Courses in the Pandemic
Generation Zen
5 Happy Items For Your Daily Grind
Mayum* T*** and 1 other likes this
Commune
Reasons why we should pay attention to the importance of Mental Health, Now more than ever
Joe* A*** and 4 other likes this
Edukasyon's Guide To
Live S.T.R.O.N.G: A Student's Guide To Life
Mayum* T*** and 2 other likes this
Free Cut!
5 Things That Video Games Can Teach Us About Goal-Setting
Cherr* M*** and 2 other likes this
Commune
AGREE TO DISAGREE: How to Play Nice on Social Media
Edukasyon's Guide To
Build Your Dream Home, Find Your Dream Program
Alvi* S*** and 1 other likes this
Generation Zen
Confident Me: The Toolkit
Generation Zen
How Advertising Can Affect Our Confidence
Angelli* M*** and 1 other likes this
Generation Zen
New Year? 3 Tips for A New Life Without Burnout
Henr* M*** and 4 other likes this
Commune
Asking For A Friend: Bakit ka dinidisiplina?
Gen* P*** and 6 other likes this
Explore new paths
What do you want to be when you grow up?
Let us help you achieve your dream job by matching you with the right schools.